And that is how my last few days have been.  I've been finishing little projects up and hope to share a couple of them with you fairly soon.  We did a bit of yard work a couple days ago before more rain came.  We got about three quarters of an inch overnight on Monday.  It would be wonderful if it would keep coming in waves like it has so far this season.  We got a whopping four inches in 24 hours and the ground was so dry, it just sucked it right up.  Normally, that amount of rain that fast would have caused some flooding around here but the earth was thirsty.  Since then, we have had two good little storms, dropping the perfect amount of rain so that the ground can soak it in.  The hills are turning a beautiful green again and it just smells so fresh outside.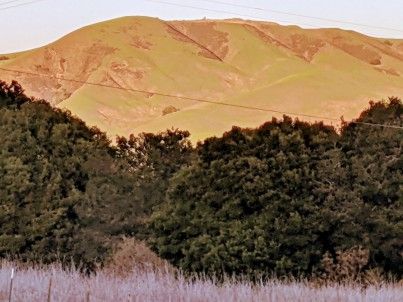 This view is from the front door of my studio.  You can see the grass on the hills is just starting to green up.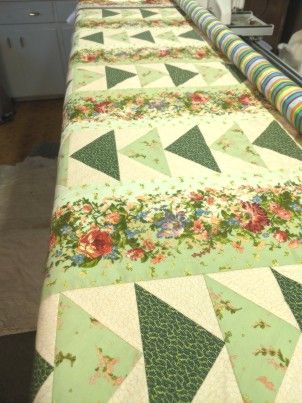 So, the Flying Geese Quilt is on the machine and about a quarter of the way done. I am using a pantograph on this one and its going a bit slow.  I have been having a little carpel tunnel problem so I don't do too much of any one thing at a time.  I'm trying not to antagonize the situation.  But, I am loving this one more and more. We still have a few fabric kits available.  
The organizing is ongoing and today we got more pegboard put up in the studio. When we were visiting my aunt earlier this year, she sent me home with a big bin of thread.  Big spools of good quality thread for quilting!  I was so thrilled to get these but they have been sitting in the bin on the floor under the long arm since we got home and that just isn't right.  So, Bob got the pegboard installed today so in the morning I hope to get that gorgeous thread up there.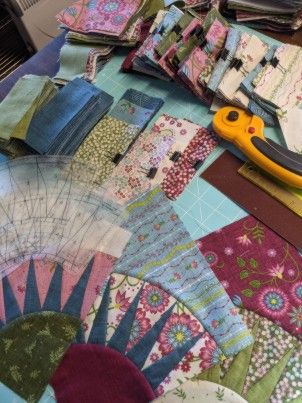 And this has been going on in the studio today.  I got all of the pieces for the entire quilt cut today and got four blocks finished and the arcs for three more done.  This quilt has 54 blocks in it so I think I will be here awhile.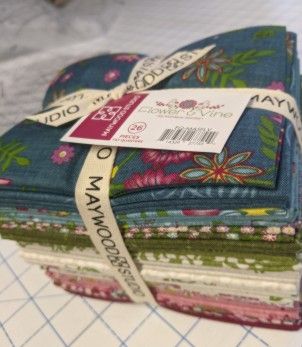 The Double Size New York Beauty Quilt Fabric Kits are made up with the Flower and Vine Fat Quarter Collection and companion fabrics.  I will keep you posted on my progress with this project.
It suddenly hit me that I only have just over two months to be ready for two big shows that run back to back at the end of January.  We will be doing Road to California on January 19-22 and the following week, January 27-20, we will be in Phoenix at the State Fairgrounds.  As these shows get nearer, I will give you more information about them.  I need to quit lounging around and get these projects done because my kids and grandsons are coming for the Christmas Holiday and I want to spend family time with them.  I am sure Laura and I will find some time to sneak away and do a little quilting but I want that to be fun stuff, not work.
How are you all adjusting to the time change?  I'm having more trouble than usual. I've been waking up at 4:00 am and want to go to work and by 3:00 in the afternoon, I'm not tired of working but the color of the sky tells me we are approaching the end of the workday and its time to go home.  I'm confused to say the least.
What are you working on? Holiday quilts?  Decor?  Gifts?  No matter what is under your needle, even if nothing at all right now, be sure to stay safe and stay healthy!  HAPPY QUILTING!