This quilt is of the oldest building in our little Mission town.  I love doing architectural quilts – they make you look at the details and appreciate them.  
We had a great trip to Texas to see the kids, although it was way too short.  We always plan to get so much done on these trips but life gets in the way.  Grandma loves spending time with the two boys so work isn't at the top of the priority list when we are there.  However, Laura and I did get some work done.  She is working on her first art quilt and its been slow going but is progressing beautifully.  She loves sea turtles so had asked me a couple of years ago to buy her a pattern that a fellow vendor had at a quilt show.  I bought the pattern but we decided to totally make it our own.  We scrapped the pattern's background instructions and decided to use two of EZ Piecing's foundation blocks and alternate them.  We are doing this all in batiks so each trip we make down there, we work a bit on the background blocks with what fabrics I take.  When we left last time, I had shown her how to build the sea turtle itself and when we saw it on this trip, I must say, I was very impressed.  Its gorgeous!  This trip, I got her stitching each little piece down with layers of batting for texture and shape.  She got that done while we were there but unfortunately, the batiks I took for the background were not what we needed.  I took lots of pictures of the blocks we do have done and the order we want to sew them so I can pull fabrics here at the studio and get them cut and wrapped in the appropriate foundation block and then send them to her to complete.  When we get a bit further, I will post pictures.
But, this brings me to today.  For weeks I have been itching to get back to working on an art quilt.  I have one very large one that is about a quarter of the way done but I thought that might be a bit overwhelming to dive back into.  A couple of years ago, while vending at PIQF, I bought a panel from Hoffman Fabrics titled "Wanderlust - Venice"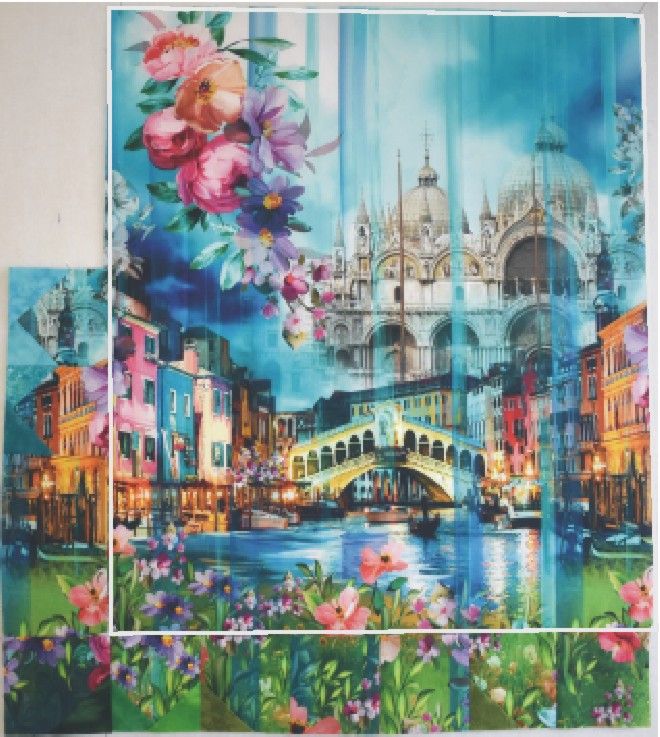 This panel meant so much to me but I didn't have a clue what I was going to do with it.  My son has been in the Air Force for 18 years this month and for four years, he was stationed in northern Italy.  Bob and I were lucky enough to be able to go for a visit for Christmas of 2007 and stayed for nearly 3 months.  He lived less than an hour north of Venice and we made a lot of trips there, even spent Carnivale there.  I absolutely loved it and we made a lot of special memories. Today, I dug this panel out and began working on it.  It is sort of a un-planned, make it up as you go project.  I outlined (above picture) the original part of the panel that I cut from the original 1-yard piece.  I printed up some Gentleman's Fancy blocks in 3" size since I had cut the original panel to measure 18 1/2" wide by 21 1/2" high.  From what was left of the panel piece, I have been making the 3" blocks, sometimes adding other fabrics to blend.
This picture shows what I had done by lunch.  There is one row of 3" blocks added across the bottom and up the left side.  My idea is to blend the print out to other fabrics in a succession of rows of foundation pieced blocks.  We'll see how it goes, but so far, I am really liking it.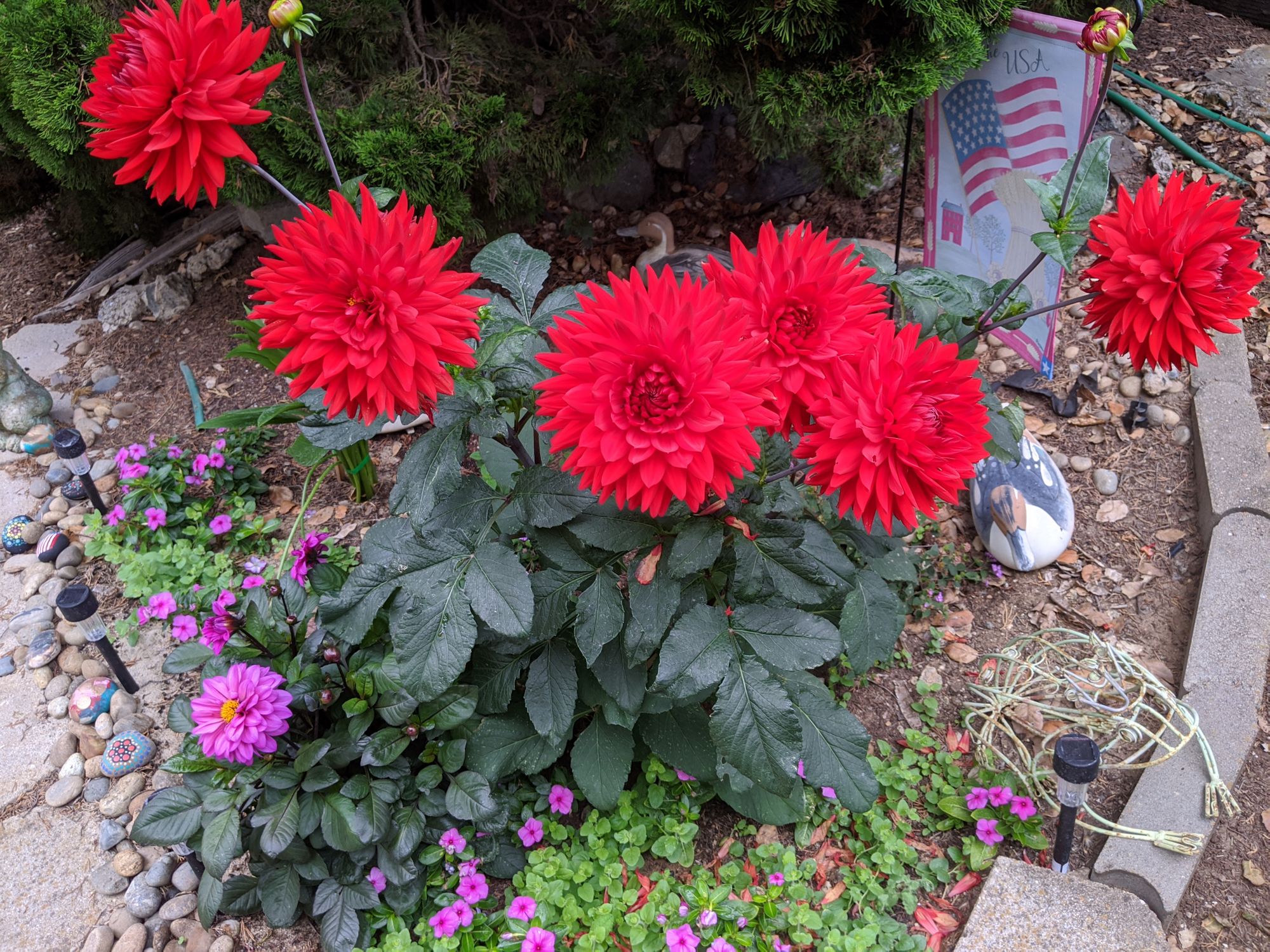 And what a show in my yard when I got home!  I need to get more of these because I would love to cut them for in the house but I love to sit in the patio and look at them there as well.  I remember my grandfather having these in numerous colors in his yard in Seattle.  I think he would be proud of me with even just this one plant; I hope so.
This whole Covid-19 thing is so exasperating; we are all missing so much right now.  There are so many aspects in our life that have been effected negatively.  I still am keeping a "look for the silver lining" attitude and appreciating the time this has allowed us to visit with our kids/grandkids and to tackle these projects.  I hope you can do the same.  In the meantime, stay safe, stay healthy and HAPPY QUILTING!