This flower is from my garden.  I love this time of year when this dahlia begins to blossom.  There are more blossoms on the plant this year than ever before.  I like to think the extra time I have been spending out there is part of the reason.  I have other dahlias in the yard but this one is always the biggest and showiest.  If you have any kind of a yard, this stay-at-home time is a good time to get out there to get the fresh air and play.  Here in Central Coast California, our weather has been pretty miserable all summer.  We have had an unusual amount of cold wind almost every day along with overcast mornings.  I see that most of the rest of the country is suffering from very hot weather so working in your yard is probably not a priority or enjoyable past time.  But, there is always quilting!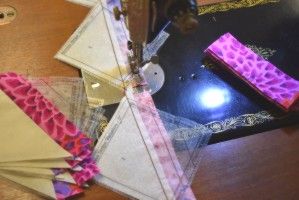 I love when blocks lend themselves to chain piecing.  It sure makes them go a lot faster!  These are the Roman Stripe Variation in 3" finished size for the outside border of the Curved Log Cabin Table Topper.  This quilt has taken its time getting done; I've had a lot of interruptions this past week but it is finally ready for quilting.  These colors (Kaffe Fassett fabrics) are so vivid with enough colors from the one fabric to still give it some depth and texture.  I could see making this in a lot of different colors using his fabrics.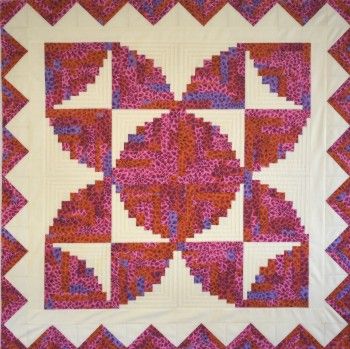 This pattern is available on the website.  It really is a great project for beginners and advanced quilters alike.  Our patterns have step by step instructions with photos and instructions to walk you through making the blocks and assembling the entire quilt.
I'm not sure what is on the agenda for this coming week.  I am itching to start work on an art quilt but there is still a lot of sorting of fabrics to be done, a few quilt tops need to go on the long arm and be quilted, quite a few quilted projects that need binding put on them and a few other designs that need a little more work to have them finished.  And then, writing the patterns!  I won't stress; I refuse to stress.  And, somewhere near the end of the month, there is going to be a quick trip to Texas to celebrate our 48th wedding anniversary and to see our kids.  We are keeping ourselves at home as much as possible and there won't be any socializing while on the trip.  They have been quarantining since they left here at the end of March.  Each time Donald has to make a trip for work, he has to quarantine again for two weeks so Laura has just kept the boys at home to be on the safe side.  I hope all of you have been taking care to keep safe and to stay healthy.  Happy Quilting!