My quilt, Ribbons and Stars, looked so inviting with my planter that I just couldn't resist snapping a picture.  I loved the picture so much, I put it on the cover of the pattern!
I wanted to show what our booth is like to those of you who live too far away to attend one of our shows.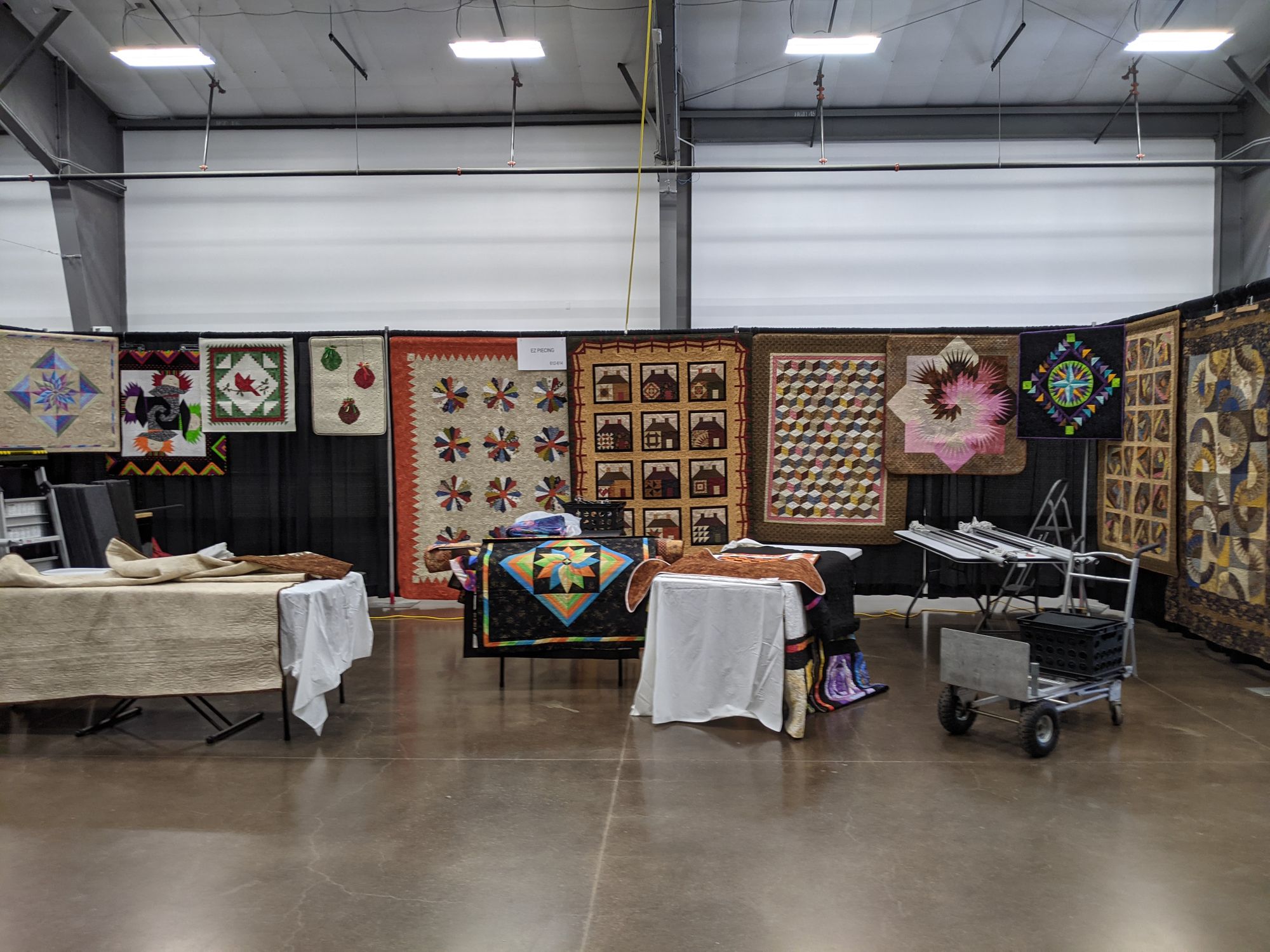 I usually have a plan for where I want to hang each quilt in the booth but those plans always change, hence the chaos here.  But, once I get them hung, everything else has a place to go.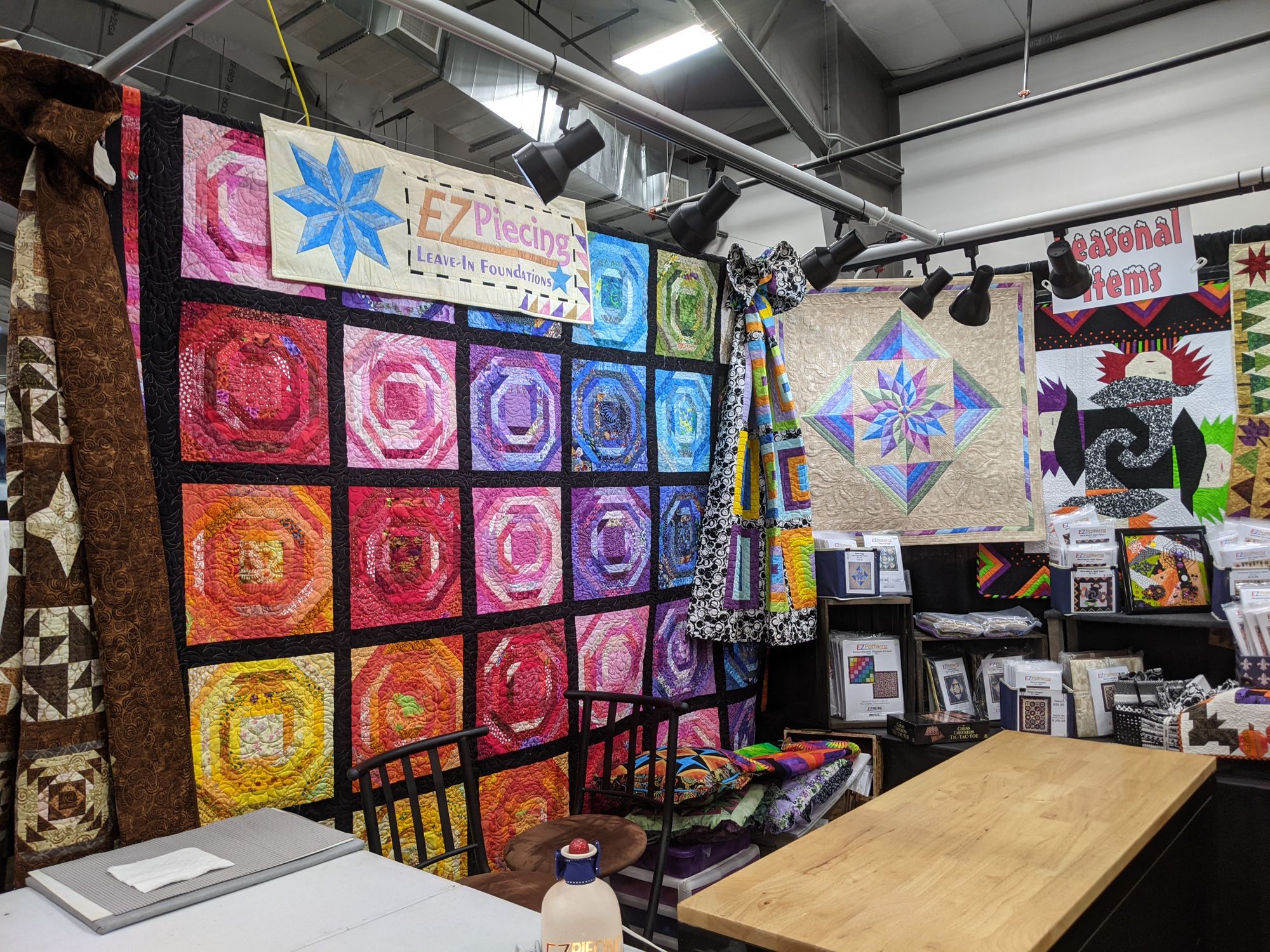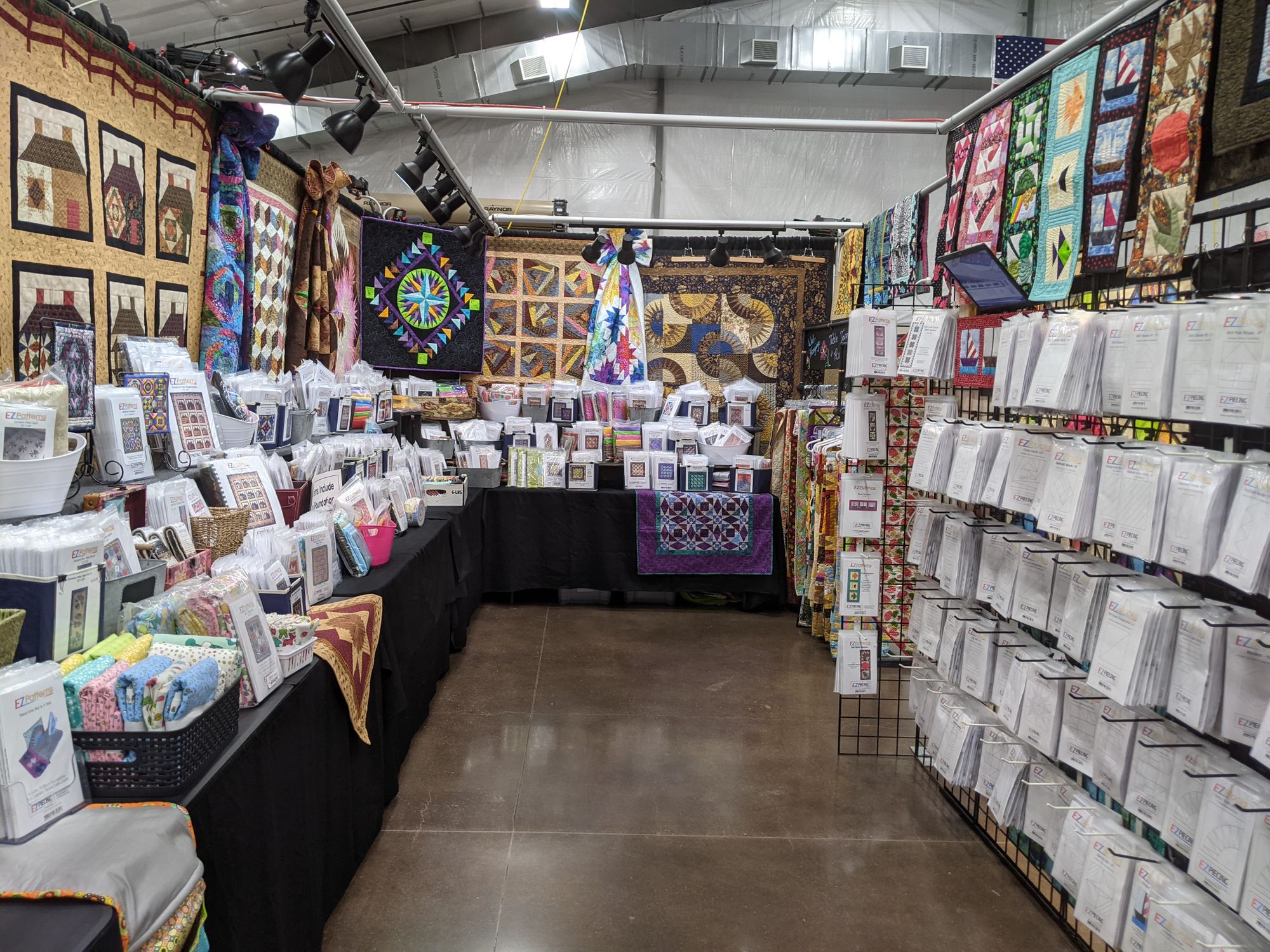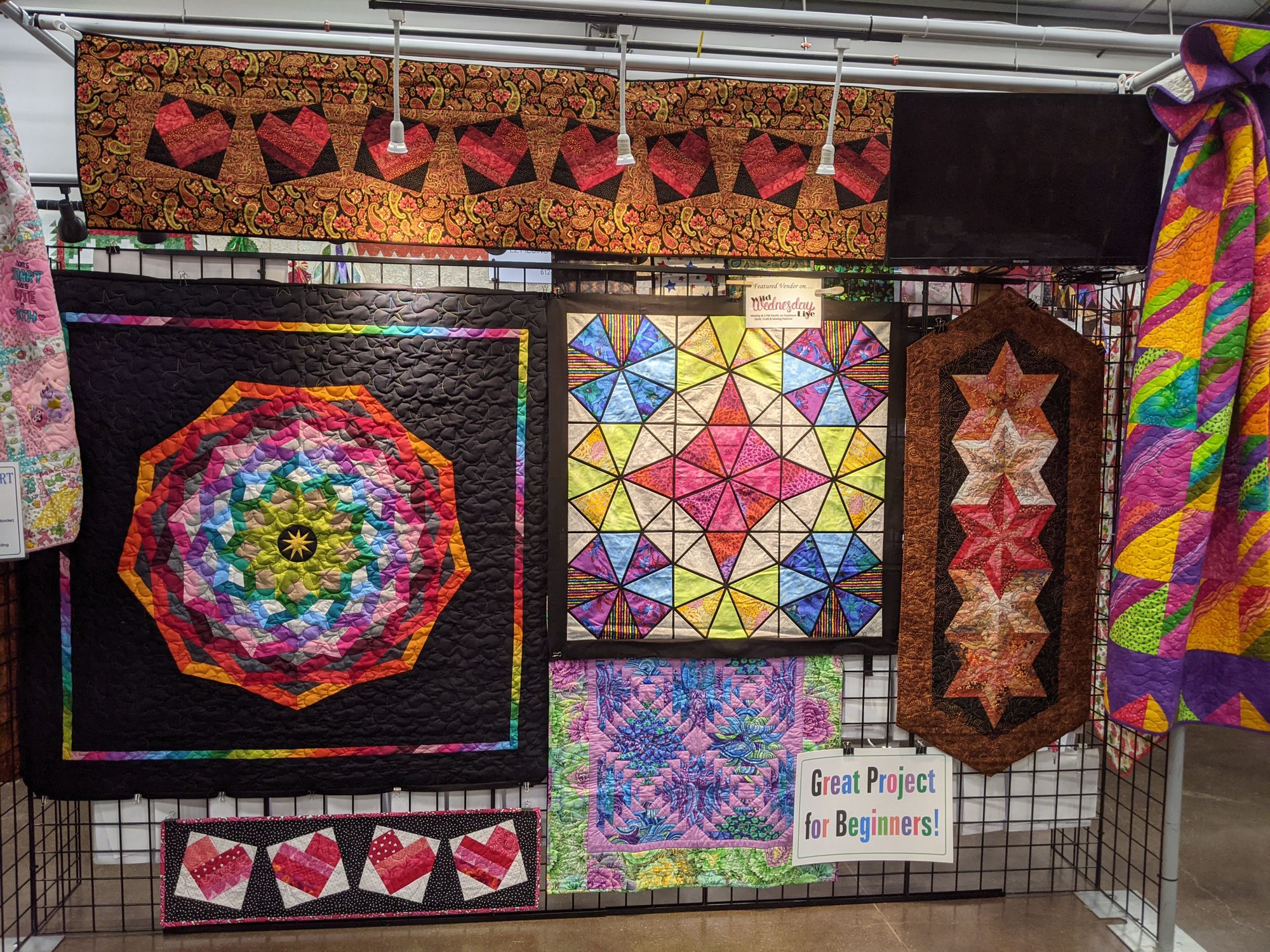 We have really had a lot of fun at our first two quilt shows of the year – Oklahoma City and Denver.  We are looking forward to our Sacramento show which will be at a new venue this year – the Roebbelen Center in Roseville, CA.  The show runs August 12-14th.  We will be in booth 615-618 and my good friend Kathy will be with us doing demo's every day.  I will be doing my seminar each day as well.  
The kids and grandkids have been here for a week; Laura got started on a partially done project for me but they were so busy every day doing all the "touristy" stuff that she didn't have much time for sewing at all.  The boys loved playing outside.  I always have a hard time when they leave.  Donald got so much technical stuff done for me this time which was so helpful.  I hate asking him to do so much when they come for a visit but sometimes, I just have to!
While they were here, I did sneak away a bit each day to work on a new project.  I have had the fabrics for kits for awhile so decided it needed to be done.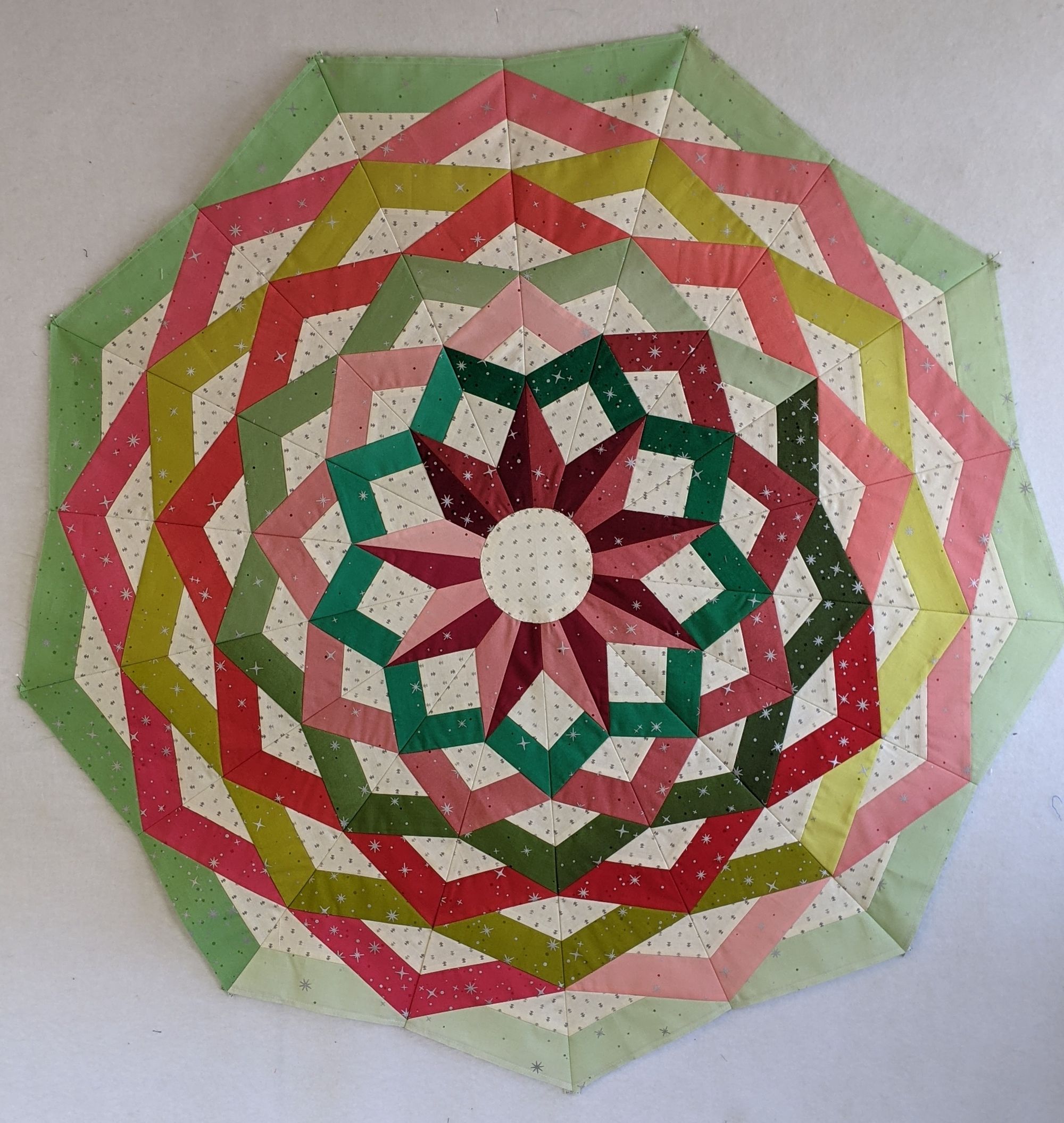 I had hoped that this would be big enough to be a tree skirt but there just wasn't quite enough fabric to go that big.  It could be used as a tree skirt for a small tree or tree on a table.  There are eight fat quarters in the kit and they are ombres so we swirled the colors.  I am starting to quilt it in the morning.  The pattern will be available later in the week.  I will post pictures when it is completed.  In the meantime, I have decided to make a larger version for a tree skirt and will be getting that one made up later this week as well.  So, stay tuned!
If you are a member of "The Quilt Show", you may have seen the show with Julia McCleod as the guest.  She works with silk and has used my product in the past and was showing it and talking about it on the show.  I was a proud "mama" when I saw that.
It seems as though life is getting back to a more normal place but its still wise for all of us to take certain precautions.  I hope you are finding a level of comfort and are able to do most things again.  In the meantime, stay safe, stay healthy and HAPPY QUILTING!