I thought spring would never get here.  Donald and Laura are talking about being in the swimming pool in Texas and I am dressed up like a polar bear!  We have had a lot of cold, windy, cloudy weather this month.  As if being confined to home isn't depressing enough, but to have such gloomy weather really has added to the frustration.  I have been itching to get out and work in my yard but not when its so miserable.  Think I'll just stay in and sew, thank you very much!  But, today we have had sunshine all day!  Its still kind of cool and breezy but its an encouraging sign and I'll take it.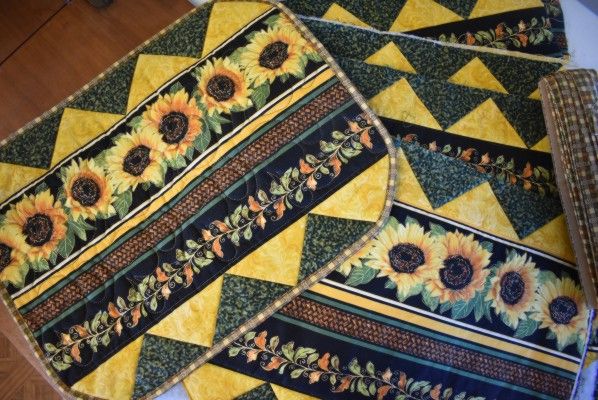 After getting orders out this morning, I decided to play with something that fit my "spring" mood.  I LOVE border print fabrics, but other than using them as a border on a quilt (or in a new take on a very old design that I am working on) there isn't a lot to do with them.  And there are so many beautiful border print fabrics out there.  I decided to make some nice spring flower Border Print Placemats.  I love how changing placemats on the dining room table can totally change the feel of the room.  I was disappointed that the binding fabric was printed diagonally so when I made it into bias binding, it just looks like a straight plaid.  Oh well, I still like it a lot and it will make my dining room look more like spring.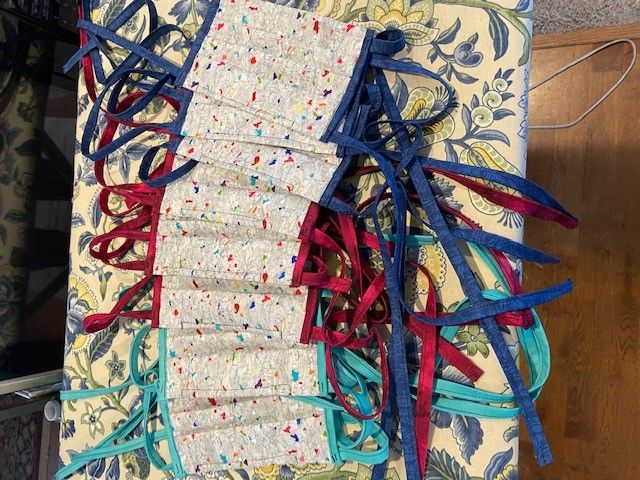 Thank you for sharing your masks Anne!  I was glad I still had some on hand today when my girlfriend asked if I had any left.  She needed some for her family and I was happy to have the hubby deliver some after dropping off our shipments today.  Keep up the good work everyone, we will get through this.
Keep safe, stay healthy and HAPPY SEWING!