I love doing the live and in-person quilt shows but I could do without the travel that goes along with them.  Obviously, that isn't going to happen so we decided to take the traveling at a bit slower pace.  We left Oklahoma City Sunday and ended up spending the night in Amarillo.  Not a very long travel day but we realized we were both exhausted so stopped early, ate dinner and went to bed.  We both felt so much better the next day!  We've decided to make these trips a bit more relaxing so maybe we won't be so exhausted when we get home.  The show in Oklahoma City was fantastic.  We were busy, busy, busy and enjoyed meeting so many new quilters!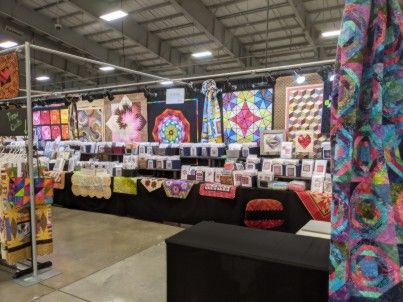 All of our orders that came in while we were on the road have now shipped.  I have tried so hard to get all of my orders out within 24 hours of receiving them but when we travel, it is so difficult to do.  We finally decided that the turmoil it causes is just not worth it so the first thing I did when we got home was get all of the orders out.  If you had to wait, I do apologize but for now, that is just how it has to be.  I will continue to work on a plan to get them out while we are traveling.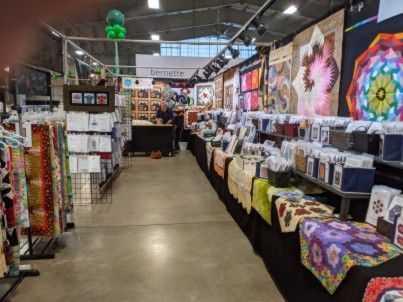 So, now we are getting ready to go to Denver for the show there on July 8-10 at the Arapahoe County Fairgrounds.  This is a new venue for us and we are looking forward to seeing so many friends there.  Its free parking and if you go to www.quiltcraftsew.com, you can buy your tickets online and save $1.00 on admission (which is good for all three days).
I will be spending the next few days writing a couple of new patterns, replacing stock that we sold last week and just making sure that everything is ready to go.  We found that after a year and a half of not doing shows, we had to re-train ourselves to set up the booth.  We forgot to load a few things but we managed okay. Hopefully, setting up from here on out will be a bit easier.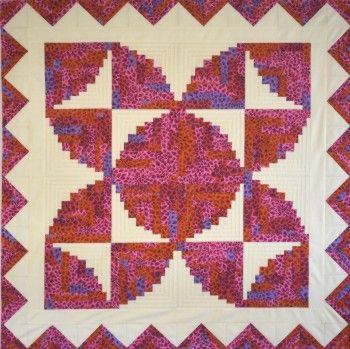 This Curved Log Cabin Table Topper is a new pattern.  I finished the quilt months ago but hadn't finished writing the pattern.  It will be finished this afternoon.  I have several others that are just being finished up and will keep you posted when they become available.
I hope life is getting back to normal for you.  When we got out of California, we found things were much more open and "normal."  Hopefully, it will be that way here very soon.  I noticed yesterday that masks were not required if you were vaccinated, although a great number of people still are wearing them.  If I felt vulnerable, I would still be wearing one; I don't begrudge anyone for continuing to wear their mask.  We do what we have to do to keep ourselves as healthy as possible.  For me, quilting is what keeps me happy and healthy and I plan to do a lot of that over the next ten days.  Stay safe, stay healthy and HAPPY QUILTING!