I thought I was just getting going and looked at the clock and its two in the afternoon already!  Where does the time go?  I hope you all had a wonderful weekend.  Ours was busy but relaxing, if that makes sense.  I feel like we got a lot accomplished but I never felt over-worked.  We Skyped with the kids this weekend.  How did our parents survive without Skype or FaceTime?  Its always so special to watch Ben play or listen to him talk.  He's growing way too fast!

I got the center of the Shadow Stars Table Runner done.  Now, I have to decide on a border for it.  I don't have enough of the dark to make it any bigger so will have to find something else.  The hardest part to making this project is picking out the fabrics.  I had a jelly roll of batiks and decided to open it up and see what I could make with it.  There were two strips of twenty different fabrics in the pack so I took half of them and added several more that were loose in the "jelly roll bin" and this is what I came up with.  The two stars on each side of the center star are made from the same fabrics but the inner star has the fabrics in the reverse order.  Its amazing how different they look even though the fabrics are the same.  Now I am getting excited, thinking of different fabric combinations.  But, that will have to wait.  I am working on the layout of the large Shadow Stars quilt so I know what I need to order, and how much.  Soon...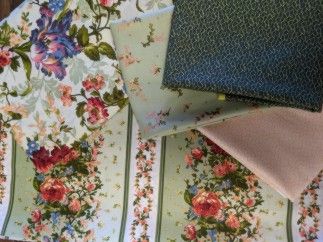 I didn't get as far as I wanted on this project but I did figure out the fabric requirements and got the kit cut for the sample.  Hopefully, this evening, I will get everything cut for the quilt.
I did a little puttering in the yard early this morning but we have had a cold breeze for weeks and its just not real pleasant being out there.  I got more seeds planted and in the green house.  We have started landscaping down the hill from the front yard towards our driveway so its going to take a lot of figuring on how I want it to look.  The pathway to the mailbox is in and there is a large area of tight ground cover that I think I will leave.  I have always wanted a large garden full of flowers for cutting so will have to do a little research so I can have color out there all year long.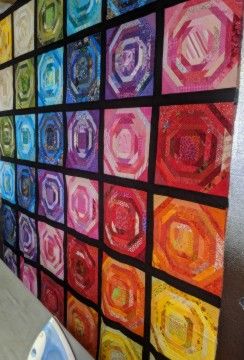 I think its time to sew a binding on the king size Pineapple Rainbow Quilt.  I have always sewn the binding on the front and then turned it to the back and hand stitched it down.  I love the way it looks and I usually love the evenings it takes to get the stitching done.  But, some quilts tend to get used more which means laundering more often and I was looking at a couple of different attachments for sewing the binding on your quilts, both front and back, at the same time.  I would love to hear from anyone that has tried this and how you like it.
Guess its time to get to work (I love that I get to say that sewing is "work".).  Have a wonderful evening and I hope it includes a bit of stitching.  HAPPY QUILTING!