After getting this quilt put together, as with every other quilt, I needed a name for it.  The family almost always have opinions and names to offer but I loved Laura's suggestion – Neapolitan Swirl.  Reminded me of my favorite ice cream as a kid.
This quilt really goes together pretty easily.  I have always avoided set-in seams in the past but knew that eventually I was going to have to incorporate them into some of my designs.  I was so pleasantly surprised at how easy, almost magical, the set-in seams are with our foundations.  With the marked lines starting and stopping exactly where the blocks meet makes it a snap to get them perfect.  If you are like me and have been avoiding them, you really need to try this.
I see some variations of this quilt coming in the near future.  It really was a lot of fun to make.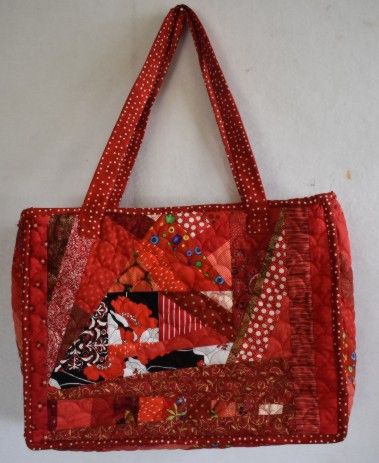 When shelter-in-place first started, I got involved with making a lot of scrappy projects and crazy patch blocks.  I forgot to show the finished insulated bag.  I had not hand stitched the binding around the top and came across the bag yesterday in the "to be finished" pile.  I sat right down and finished it up.  This morning I added a cute little butterfly to the zipper pull and I am proud to say, it is finished.  I love it.  If you missed the earlier post about this bag, I'll give a quick synopsis; I used to 13" crazy blocks as the basis for the two sides.  I had to add a few strips at each side to make it the size I wanted.  Then, I experimented with a block I have had going around in my head for years – a different braid border than what I already have.  I believe this one is called a french braid block.  I used that for the strip between the two sides.  Before assembling the bag, I quilted the two sides using the outside blocks, a layer of batting (80/20) and a layer of muslin.  I did the same for the french braid piece.  Then to the backside of each of these three pieces, I layered a piece of Insulbrite and my lining fabric.  I sewed the pieces together with the lining sides facing each other, trimmed the seam allowances and then bound them on the outside.  I made the top piece with the zipper and stitched it around the top and then bound that.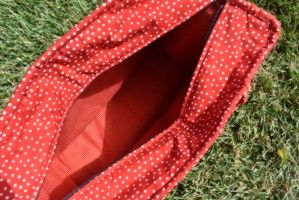 It is a nice sturdy bag that I can use for hot or cold items.  It will be staying in the back of the car for shopping trips for cold items.  I really do love it but I'm not sure about making a pattern for it.  I need to make it a little easier to put together so it will be a more enjoyable project.  The hubby has some suggestions for making it more versatile (grocery bag/casserole carrier) so I think I might try doing that.  If I get any interest in either one, I will probably post the pattern in the FREE Instruction section.  
I hope you all staying healthy and safe.  We managed to go to dinner last night at our favorite local restaurant and it was wonderful!  It will be so nice when life gets back to a more normal routine.  In the meantime, use this down time to finish up those projects you haven't had time for or start some new ones.  HAPPY SEWING!