This Stained Glass Kaleidescope Quilt is available with the fabric kits, just as shown in the picture.  This is a really quick, fun quilt and the "lead" in it is sewn right in so no applique!  The kits include the pattern and selling at $54.95 plus shipping ($4.00 additional).  The pattern is at our introductory price of $12.95; it will be going up to its regular price of $18.95 on August 1, 2021.
I know its been awhile since I've posted; a lot has happened since my last post.  We finished packing for the quilt show that is happening in Oklahoma City next week (I am so excited to be back doing live quilt shows!).  We traveled to Corpus Christi, Texas to visit with our son, daughter-in-law and our two grandsons.  We had technical things to take care of once we got down here and are just finishing those things up today.  We spent Tuesday in San Antonio, going to the DoSeum where the kids had a ton of fun.  
We also went to Lackland AFB and took the boys to see the airplanes.  I got a picture of both of my grandsons standing in front of the model plane my father flew in WWII (B-24).  That meant a lot to me.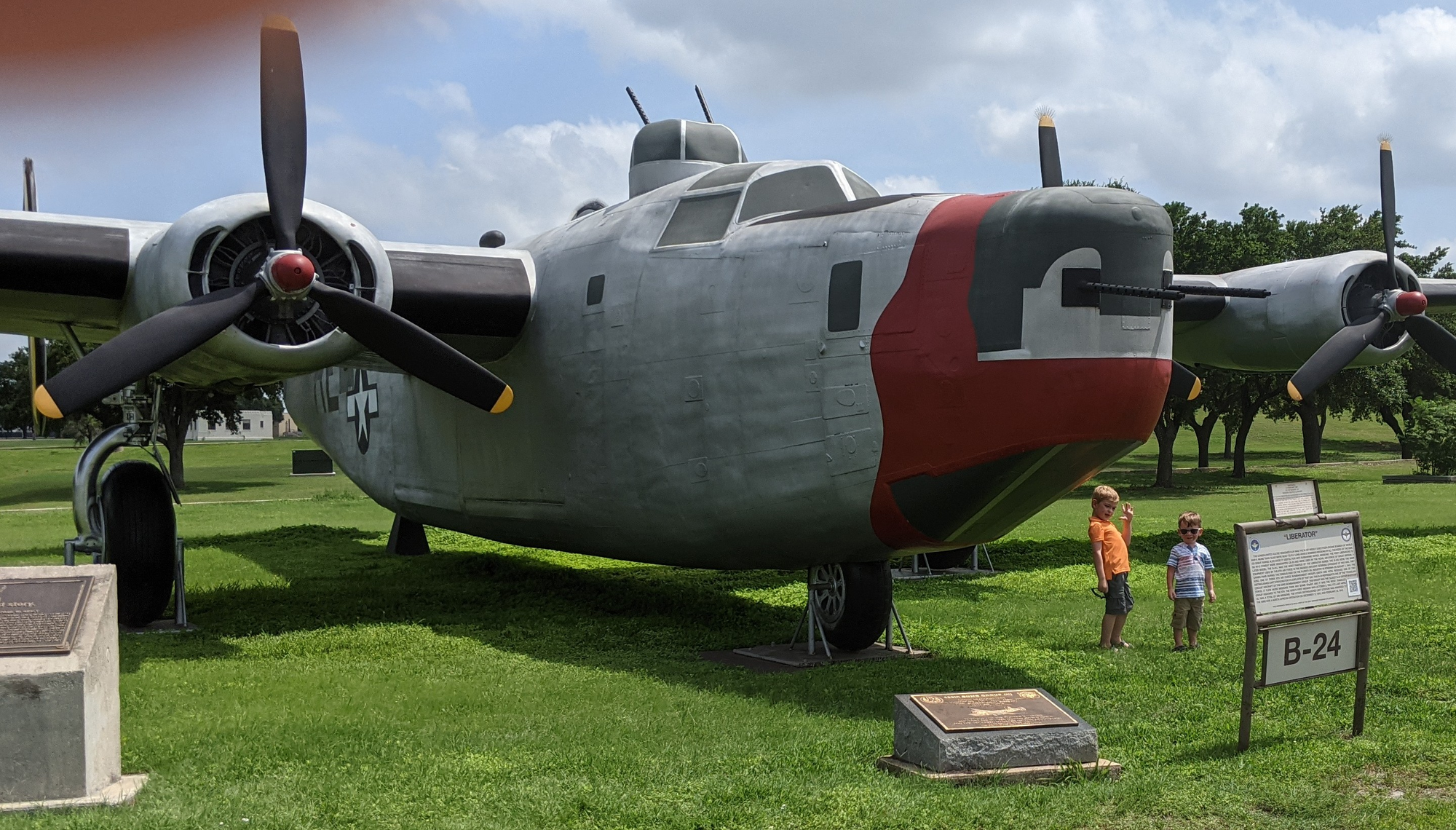 I finally got a little time yesterday to sew a few sample blocks for my first-time seminar at the quilt show.  I hope I can keep the attendees interested and maybe even curious enough about our product to come by the booth and see even more.
This weekend is for family – we were going to leave tomorrow but decided we would stay until Monday so we can celebrate Father's Day together.  I think it will be a day of barbecue and swimming in the pool.  I hope the weather is good so we can enjoy it.  
If you are in the area of Oklahoma City or need an excuse for a trip, we would love to see you there!  The show will be in The Pavilion at the Fairgrounds.  This is our inaugural show there and I am sure it will be fantastic.
Hopefully, we will get some pictures at the show to share with all of you.  We will be on the Wild Wednesday Live show on Thursday from the floor of the show.  If you missed our show this past Wednesday, you can still watch it on Facebook (QuiltCraftSew) and get the codes for our site-wide sale.  It runs through Tuesday night so don't miss out; but you have to have the coupon code given on the show.
I hope life is getting back to normal for you.  This trip is the most normal we have had in almost two years and it feels great.  Stay safe, stay healthy and HAPPY QUILTING!