Life hasn't changed much around here lately.  My routine is pretty much the same seven days a week...first thing every morning is to process orders to get them in the mail, then oversee some production and usually, in the afternoons, I get to sit and sew.  I finished the Baby Crazy Quilt and I love it.  It turned out so sweet.  I had made a Crazy Quilt years ago when this fabric was first available but it had a black and white print (companion fabric) sashing and inner border and another companion fabric of butterflies on a black background.  I gave it to my oldest grandson a couple of years ago when he first realized that Grandma made quilts for her work.  And, last Thursday night when watching Pretty Little Quilt Shop's live Facebook show, it was interesting to see that Abby's Crazy Quilt was from the same line of fabric.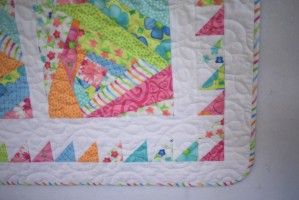 Some of my afternoon sewing time has been spent working on a super-secret project but I have also been making up sample blocks.  Laura keeps telling me that I should have at least one block to show of every one that we offer.  Most are used in quilts that have been made but sometimes, I will design a block and then just not have the time to design a complete pattern using that block.  I keep saying, "Eventually."  The Swirling Star (8") at the top of the blog is one sample that I got made.  I have an idea for a table runner or lap quilt but it will have to wait, as do so many others.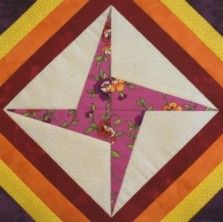 We have had the 6" Spring Star available for quite some time (it is in our Star Sampler Pattern, as is the 6" Swirling Star), but I really wanted to make it as an 8" block and put it together into a table topper or runner to show off the secondary effect you can get with the stripes.  Stay tuned, this one is on the agenda for afternoons this week.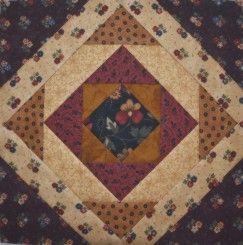 The Tunnels Block has been in our stock for years.  When my Guild asked me to design an Opportunity Quilt, we used this block.  It was done in batiks and I thought it was gorgeous.  Using our foundations for an Opportunity Quilt was so easy to put together.  We had 35 people participate and every block was the same size when we went to put it together.  Amazing!  This is a variation of a Log Cabin/Pineapple Block with a lot of different color design options.
Later this week, I hope to show a couple more quilts that are perfect for working from your stash. No matter how much or how little fabric you have in your stash, there can always be something beautiful made from it.  Stay tuned.  In the meantime, if your area is starting to open up a bit, take some common sense precautions to keep yourself and those around you healthy.  For all of you, stay safe, stay healthy and HAPPY SEWING!