If you noticed that I haven't posted anything for awhile, its mostly because of the fires and the heat we've been having here in Central Coast California.  Although we have not been directly impacted by the fires, we have been inundated with smoke.  And there I was, complaining about not having much of a summer, that it was always on the cool side here and windy.  That changed in a hurry.  We had several days in a row where the temperatures reached triple digits and the smoke and ash were so bad that we were not wanting to go outside.  The studio does not have air conditioning so I was getting up before dawn to come down and get orders out and do the absolute necessities.  I had to keep it closed up so the smoke and ash would not come in to ruin my fabrics and quilts and machines.  Then I would go back up to the house and stay inside.  I had to venture out to the vegetable garden every other day to water the things that are not yet on the automated drip system.  Even with a mask on, I came in feeling like I had sucked in a whole ashtray.  This has given me a whole new admiration for our firefighters and what they do to protect us.
I have managed to get a little bit of piecing done during this time, but not nearly enough.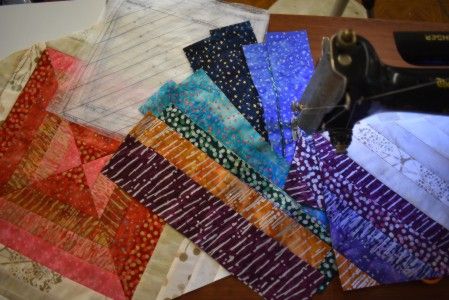 I had a customer ask me recently if I had any other stripe blocks; she had decided that the 5-inch Diagonal Stripe blocks were too small.  I wish you all could see my computer files with all the blocks I have stored in there that are not on the website yet!  We now have available, a Diagonal Stripe 8" block and an Opposing Diagonal Stripe Block, also available in 8 inch.  They come in packages of six or sixteen.  I am in the process of making some samples and possible patterns using both of these blocks.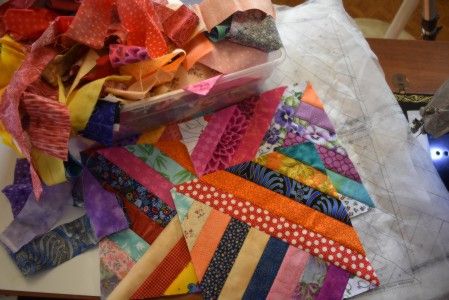 What an awesome way to use my 1.75" scrap strips.  I think I wrote before that I sort all of my fabrics by color and then I have a drawer for all the pieces that are less than a fat quarter.  A lot of these get cut into strips and I find that 1.75" works well for most of my striped blocks.  I keep the strips in drawers, also sorted by color.  For these Opposing Stripe blocks, I just grabbed a handful of strips from each of the 8 different color drawers and threw them all in the small bin.  I will use these strips in these blocks and then go grab more as I need them.  I stacked the strips into sets of ten and cut them to the lengths that I needed.  My only rule for making these was to not put the same fabric twice in the same block.  I have an idea for a project and hope to get to that this afternoon.  I haven't sewn any of the blocks together yet but I am thinking that I like them set this way: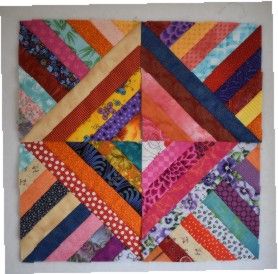 For those of you who are in the midst of these fires, I pray for your safety.  These are very crazy, scary times.  I hope you are staying safe and staying healthy.  I am so thankful for my sewing to keep me sane.  It gives me something to focus on instead of the misery and troubles all around us.  I hope you can find time each day to focus on what makes you happy and to find that inner peace.  HAPPY QUILTING!