I know its been quite awhile since I posted here, life kind of got in the way.  I have been really busy, getting ready for real live quilt shows!  Its so exciting to finally start planning to travel and interact with fellow quilters.  Our first show is scheduled for July 8-10 in Denver.  I will have details on location and hours soon.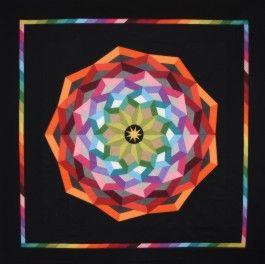 I had a lot of fun designing this quilt and when I made it, I was thrilled with how easy it all went together.  I have lots of ideas for different color ways and layouts but for now, I am very pleased with it.  The pattern, Celestial Ribbons, is on the web site and ready to be shipped.  I have fabrics on order for kits but they aren't scheduled to arrive until some time in May.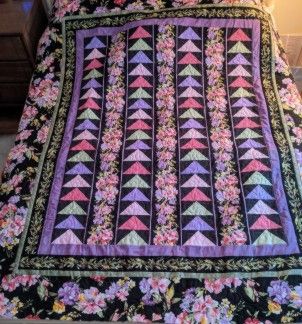 I finally finished quilting the Flying Geese Antique Quilt and got the diagonal stripe binding sewn on.  I have been stitching the binding down the past few evenings and should have it done in another evening or two.  The name for this quilt came from a trip to an antique store where I found a vintage/antique quilt using the Flying Geese Blocks between strips of a printed fabric.  I don't think the fabric was a "border print" per se, just a striped floral fabric that had been cut into strips.  But, I decided with all of the beautiful border print fabrics that are out there today, I could make a modern "Antique" quilt.  I love this one so much that I decided to make a slightly larger quilt to actually be a queen size and ordered the most gorgeous fabric line for it.  The fabric came in earlier this week and its been tough just looking at it while I finish up a few other things.  I am hoping to get it cut out this weekend and promise to show pictures as it goes along.  Kits will be available in the new fabric line.
We have had some pretty cool weather so I haven't been real excited to work in the garden but Bob got up in the vegetable garden and did some tilling on Wednesday so I guess its my turn to get up there and get the rest of the garden planted.  This year, we are building a bird netting over the tomatoes.  There are so many buds on the ollallieberry plants that I think we will have an amazing crop again.  I planted some blackberry vines and added several more of the ollallie's to the garden so next year I will hopefully have some to share.  I am also trying something different with the various squash that I plant.  We are going to try to go vertical with the plants.  I hate the way they spread out all over the garden so I did a little research and think its quite possible to train the vines upward and support the growing squash.  I will let you know how it goes.

I am currently working on the pattern for the Shadow Stars Table Runner.  Its also in line to be quilted!  I have the layout done for a large quilt using this star pattern as well and the fabrics are on order and are scheduled to arrive sometime in May.  Making this block is pretty easy, its just that there are a lot of them.  However, the 3-D effect is awesome and so worth the time.  The pattern should be on the website and ready to ship by next Friday.
There really has been a lot going on behind the scenes.  I hope to be a bit better at keeping you posted on all the new things we are getting done.
Bob and I had both vaccinations and are three weeks past the second shot.  I had a bit of a reaction after the second shot – just really tired and achy for a day or two but I imagine it was nothing compared to getting the virus.  I hope you are all doing well and staying safe and healthy.  I can't stress enough about how the quilting has saved my sanity.  I hope it has helped keep all of you in a better frame of mind as well.  Until next time, HAPPY QUILTING!