Wow!  Monday and Tuesday I was dressed like a polar bear, Wednesday I was down to a light sweater and today, I think its time to pull out some short pants!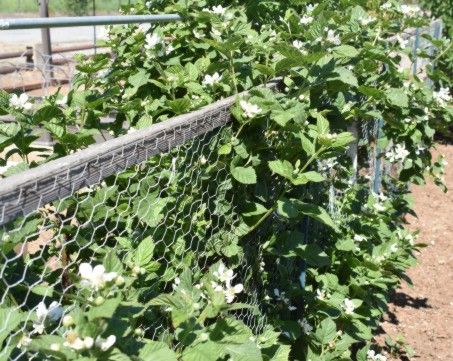 Its Friday and I am going to take off early.  I have a dreaded appointment with a dog that has needed a haircut for several months.  With this weather, I can't put it off any longer.  I will like having less hair in the patio and back porch and he will certainly feel a whole lot better.
The berry bushes are loaded with blossoms again this year.  I think we will have even more than last year.  We harvested and froze four seven pound bags from just three plants.  We expanded to five plants this year so we should be set.  Now, I just need to find a way to transport a frozen bag or two to Texas!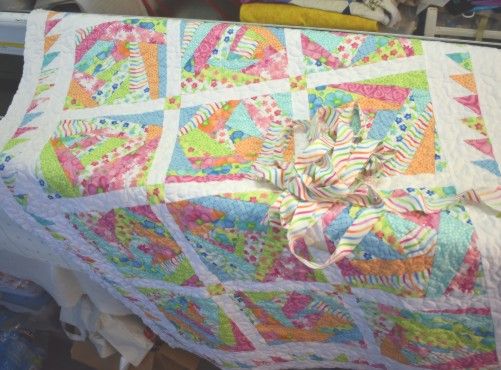 I did get this quilted and trimmed, the binding is ready to be sewn on.  Hopefully, tonight after the doggie haircut and a shower, I can get the binding on and then sit in my chair and binge-watch the rest of "Virgin River" while hand sewing the binding down.  With every step of making this bonus scrap quilt, I love it more.  Its such a happy quilt.  Wish I had more of this fabric!
I did get a few more masks made, by request.  And I forgot to take pictures!  I made some 49er masks and more of the Miller Lite masks.  Some guys think they are too macho to wear a mask but if you make it with fabrics they like, they might be more prone to wearing it.  Its worth a try if  you have a stubborn one around.  So, stay safe, stay healthy and HAPPY SEWING!  Have a great weekend.