I missed wishing you a Merry Christmas and a Happy New Year!  I hope it was all just wonderful and that everything has sort of settled down now.  The kids came for about 10 days at Christmas and work sort of stopped during that time.  Laura and I did sneak down and do a little sewing.  She got the blocks made for the new Jelly Cake Quilt using the Tula Pink True Colors fabrics.  I am currently putting the outer border on it.  Pictures will post in a few days.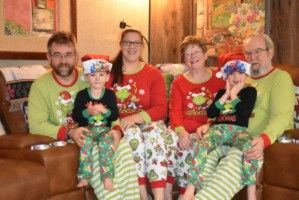 I finished the New York Beauty Double/Queen quilt done with the Flower and Vines Fabric Collection.  It is currently being put on the long arm.  The fabric kits for this pattern are currently available on our website.  
Over the years, we have had so many people who were interested in the Log Cabin LoneStar.  Up until now, we had only offered as a stand-alone block or single block table topper.  We finally sat down and made a Log Cabin LoneStar Table Runner using some bright batiks and it turned out to be a really cheerful project.  It brought the sunshine in, thats for sure!  We have a few fabric kits left so if this hits your fancy, don't wait too long.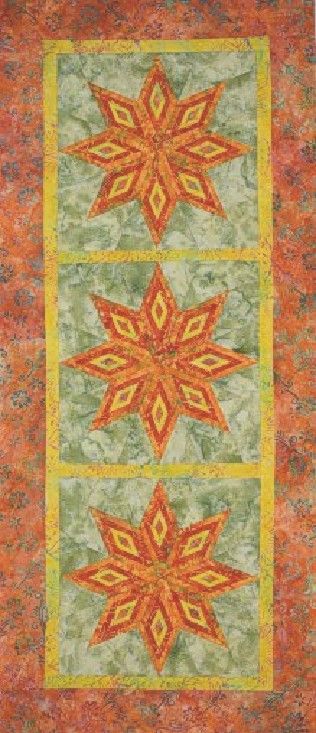 We just returned from a trip to Arizona for the Quilt, Craft, Sew Festival at the Fairgrounds in Phoenix.  Despite Covid still causing lots of chaos, it was a very good show.  Over the winter, Bob and I worked to completely remake our booth in the hopes of making it more inviting and visible and to make it easier to find things.  It really opened it up and made it easier for a lot of people to still see everything without crowding.  I am so pleased with the way it looks and works.  
Our next show is at CalExpo in Sacramento on March 24-26th.  The show is open from 10:00 am to 5:00 pm on Thursday and Friday and closes at 4:00 pm on Saturday.  We are in booth 310-313.  Hope to see a lot of you there!
I have several workshops scheduled for the next couple of months.  I will be teaching a workshop at Tokay Quilt Guild in Lodi on February 12th; a trunk show and workshop in Prescott Valley on February 21st and 22nd and another workshop on March 19th at Golden State Quilting in San Jose.  I have several other trunk shows and workshops lined up after that and as the time gets nearer, I will post that information.
I was hoping this Covid thing would be long over by now but until we figure out how to live with it, we are still going to have a somewhat unusual life style.  So, I hope you all are getting lots of stitching done, maybe finishing some of those old UFO's or expanding your skills learning new techniques.  Whatever it is, I hope you stay safe and healthy.  HAPPY QUILTING!