I was hoping to use this little Lattice Table Runner for a barbecue in the patio this past weekend when we celebrated my husband's birthday, but the weather just hasn't cooperated.  Maybe we can use it over the 4th of July.  It would be perfect!  I even have fabric kits for this and it includes the backing.  Its a quick little project that is a lot of fun.
Its been a hectic two weeks.  We added a new show to our schedule so I have been busy getting things ready.  We will be in Oklahoma City at the Fairgrounds in The Pavilion.  This show is a month earlier than what we had originally planned for our start so I have had to put it in high gear to make sure everything is ready.  I am really anxious to get back out there and meet lots of new quilters.
A couple of my new projects will have to be slightly postponed.  I have been going through all of my quilts that we display and making sure the bindings are sewn down and the hanging sleeves are secure.  Sometimes, when I make a new project, everything gets done except those two things and I just really wanted to complete them properly.  It feels good.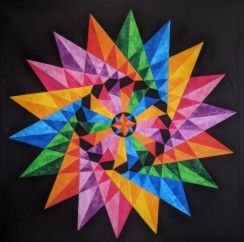 I have this hanging on the design wall right now, trying to decide if I like it and if I do like it, what am I going to do for a border?  Its the middle section that has me kind of baffled.  The rest is super easy to do so I am hoping to figure something out soon.  I will keep you posted.
Our weather is still miserable.  We had one or two really nice days a couple weeks ago and I thought that spring had finally arrived.  But, no, it turned cold and windy and a lot of dense fog and even a bit of rain.  My vegetable garden is so far behind normal that its a bit depressing.  At least this should hold off the ollallieberries from ripening while we are on our trip to Oklahoma City.  One thing that seems to like this weather is my bougainvillea.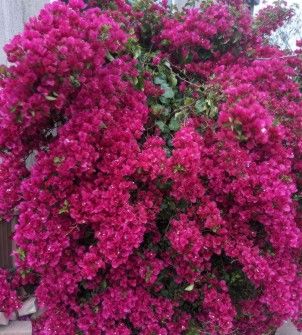 I am almost done making Flying Geese for the "Antique" Flying Geese quilt.  Showtime has sort of taken over but I am hoping to have this one done before we leave.  I do have fabric kits for this quilt and when finished, it will be a double/queen size.  I can see this one on the iron frame antique bed in our guest room.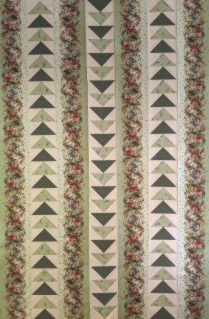 The colors in this photo don't do the fabric justice.  The background of the flying geese are a golden peach color.  When the whole quilt is completed, I will post a much better picture.  
I am so excited for this upcoming trip; we have some business to do in Arizona so we decided to combine business with pleasure.  We will head to Arizona, take care of business and then down to Corpus Christi to visit with the kids for about a week.  Then we will head up to my Aunt's place near Ft. Worth for a few days (hopefully, we'll get a trip in to Moda to see what's new) and then to Oklahoma City.  A week with my grandsons always proves to me memorable and this Grandma can hardly wait.  I'm also anxious to see what Laura and I will work on – we always can find a couple of projects to do.
Its so wonderful that things are opening back up and we are finally able to get out and about.  We belong to a little RV group and after more than a year, we finally had a lunch together.  It was so great to see everyone.  We have stayed in touch over the year, mostly via Facebook, but to sit and visit in person is just so much better.  And now, to do live, in-person quilt shows again is really exciting.  I just hope we can remember how to put it all together and run it!  I hope you are all doing well and starting to get close to some form of normalcy.  Its been a very long and difficult road.  Quilting has kept me happy, I hope for you as well.  Stay safe and stay healthy!  HAPPY QUILTING!