Wow!  Where has the time gone?  I knew I had neglected to write anything here for awhile but didn't realize it had been a month!
Its been rather sad and quiet around here the last two weeks.  We lost our little Indy girl after 15 1/2 years of love.  She was my "Velcro" dog – she went everywhere with us and hadn't missed a quilt show in all of these years.  Many of you that we know from the shows, would see her in her bed, usually at my feet in the booth.  Its been difficult to break all those habits we had with her.  We are leaving tomorrow and its the first time we haven't taken her with us so its going to be a little different.  But, as my wise grandfather would say, "Life must go on."
I have had a lot of time to play around with some of those design ideas that always float in and out of my mind but always get pushed to the back because there are more important things to get done.  I finished quilting the "beast" – my Rainbow Pineapple Quilt.  Its the widest quilt I can accomodate on my long arm frame.  Bob loved it so it was my gift to him for our bed.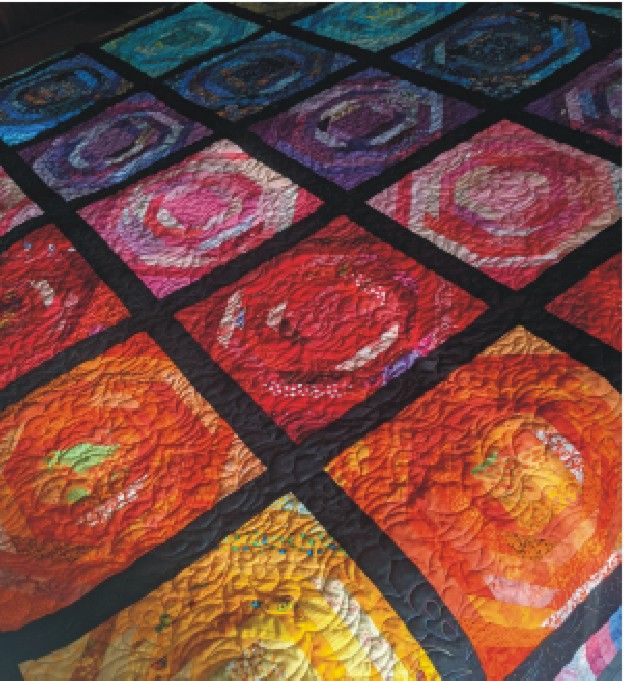 Every year when Bonnie Hunter (Quiltville) introduces her mystery quilt, I tell myself that I am going to sew along and get one done.  I have two different years' mystery quilts started but it always seemed that I didn't have time to sew anything for myself so they go set aside.  This year, I have managed to keep up for the first three weeks.  But, her units are being done on foundations.  The first clue was for half-square triangles.  I thought that I had a great way of making them on the foundations and they were good.  Even though they were very accurate, they really weren't any faster than making them without the foundations.  However, I found a way to make 24 half-square triangle blocks by simply sewing 12 straight lines of stitching and then cutting on the lines.  They come out perfect size and are fast and fun.  I have put this method to use in a quilt that I had designed that is made from 1600 half square triangle blocks that finish at 2 1/2" each.  When I first started that project, I was doing it one block at a time but I needed 24 of each color set so this new method works out fantastic.  It also made the first clue for Bonnie's mystery quilt a breeze.  Week two and three are also on basic foundations as well.  One is an hour-glass block which is a snap to make in bulk.  I will share these with you after the first of the year.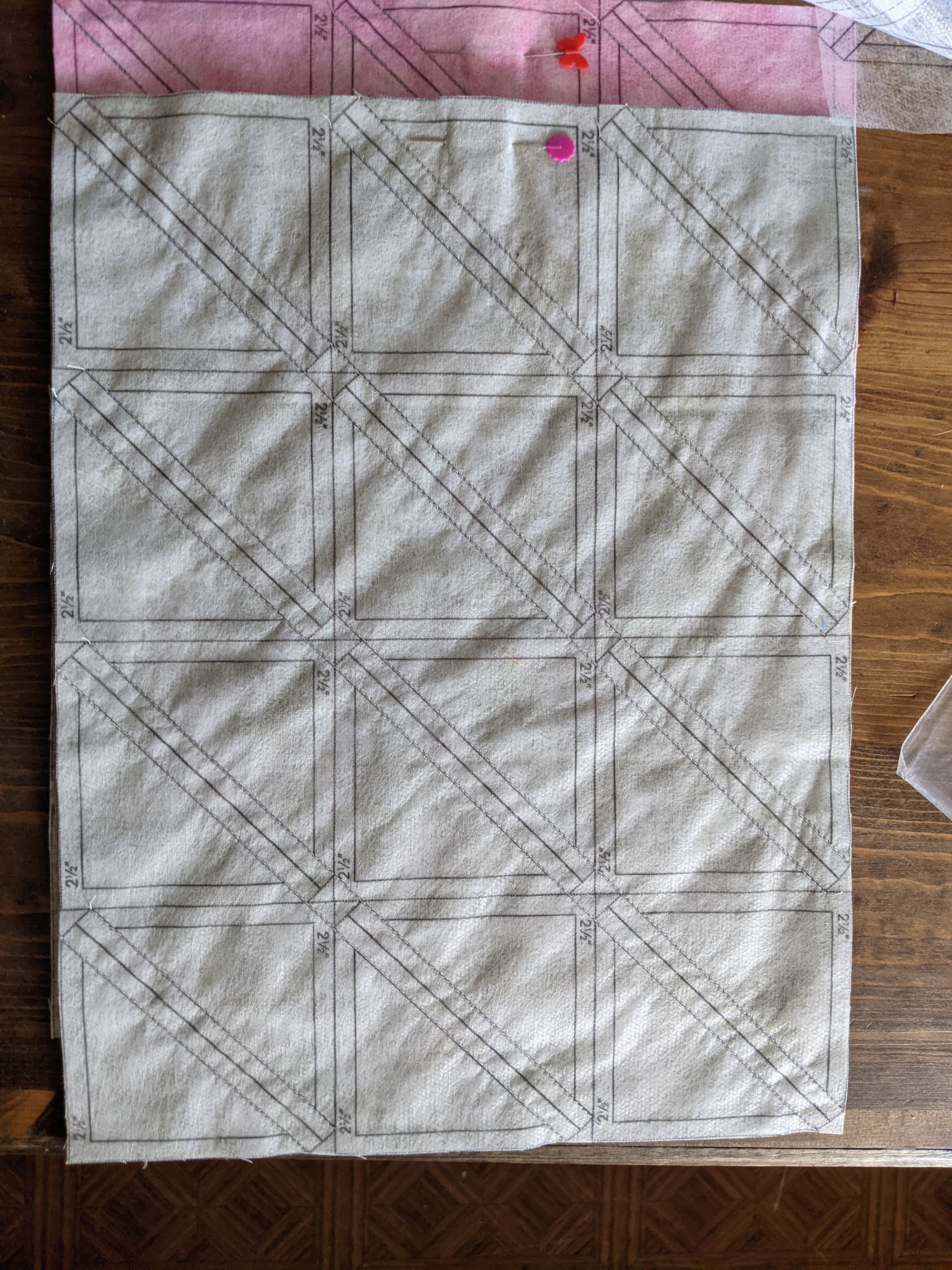 You can see where I have stitched on the diagonal lines.  I will cut them on the solid horizontal, diagonal and vertical lines.  The 1/4" lines have been removed from the newest edition.  There is only foundation under half of the block (its so light weight you don't even know its there) so there is no reason to have a reference line on only half.  When they are sewn together, you just use your 1/4" foot because the seam allowance is built in.  Trust me, this is addictive!  The blocks will be up on the website when we return the first week of January.  There are a multitude of sizes that are ready to go and if you need a different size, we can make them.
I have been putting the final touches on our Banner of the Month quilts.  You don't have to join or commit to the twelve months but we thought it would be a great way to learn some new techniques, along with learning the ins and outs of foundation piecing.  These are seasonal little banners that have three six inch blocks but, the great thing is, the pattern contains enough block foundations to make two of these three-block banners or, you could make a longer table runner or a four-block table topper and a couple of mug rugs or pot holders that all match.  I hang the original three-block banner vertically and then I make the other three blocks into matching pot holders (they can also be used as mug rugs).  I have a nice narrow space between the kitchen and dining room for displaying the banner and with each one, I welcome a change in season or holiday.  The first banner to start the year is the Heart Banner.

There are three different heart blocks - a simple heart, striped heart and a crazy heart.  It only takes a few hours to make this one up and you will have it ready to hang to celebrate Valentine's Day.  These are on the website and ready to ship.  And they are a great deal at only $10.95.  The instructions are photo step-by-step and written so even a beginner can get these done with ease.  The first half of each month, we will introduce the next banner.  In January, we will be featuring the St. Patrick's Day Banner.
Bob and I have been staying home for what seems like forever and purposely not having a social life so that we would feel safe to join our kids for Christmas and New Years.  They have been self-quarantining as well so we will take all of the necessary precautions and be as safe as we can be for everyone's sake.  The kids don't go to school and Donald and Laura both work from home so it hasn't been too hard to prepare for this.  I am so looking forward to spending time with my family.  I hope that all of you can find some way to have a cheerful and healthy holiday season.  Even Skype or Zoom calls are so special.  And, always look for the bright side or silver lining.  It makes all of this craziness a little easier to handle.  For me, the best way to cure my frustration with having to be sheltered at home is to sew.  I can focus on my enthusiasm and excitement for the next project and it immediately improves my mood and outlook.
Please, have a Merry Christmas or joyous Holiday Season however you celebrate.  And lets all hope that the New Year brings us a healthier and happier world.  Stay safe, stay healthy and HAPPY QUILTING!