Yesterday and today have given me hope that spring is on its way.  I know that here in Central Coast California, we are desperate for more rain but it seems that it has been a pretty dreary winter and I am eager for sunshine and some natural Vitamin D.
We got the BIG SALE started on the website.  I have a few items listed but I wanted to share here first, exactly what is going on sale.  Most of these patterns are some of our older patterns and I am either going to completely discontinue them or remake them in updated, more useful sizes.  When we started out, everything was table runners or toppers because we just didn't have the room to show very much stuff at the shows.  And being smaller, it was easier and quicker to get them done. So, to clear things out and make room for the new stuff, we are putting these items on sale for a whopping 40% off.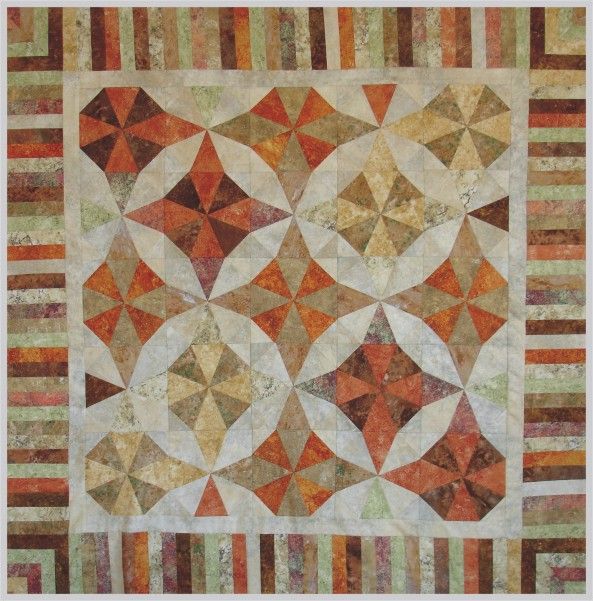 The Blended Fan Quilt uses 6-inch "Electric Fan" or "Kaleidescope" blocks.  I love this block because it is so diverse.  These are all straight line stitching with the optical illusion of curved piecing.  The border is a simple 1-inch wide piano key border but the corners are on the foundation so they only look like they are mitered.  This quilt pattern normally sells for $15.95 but the sale price is $9.57. These are complete, step-by-step instructions and all the foundations needed.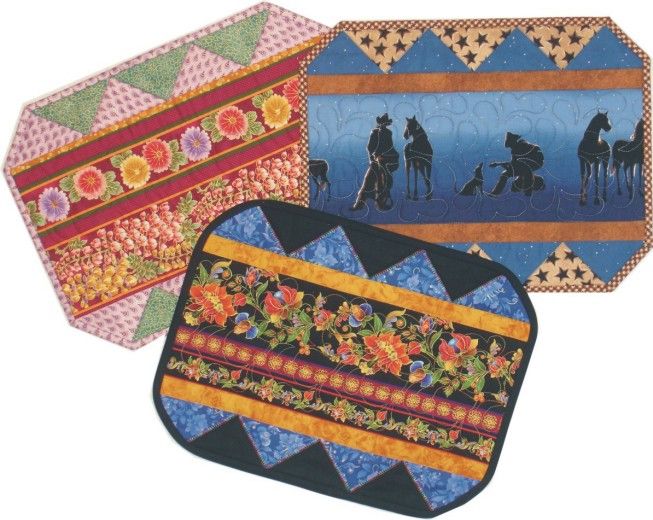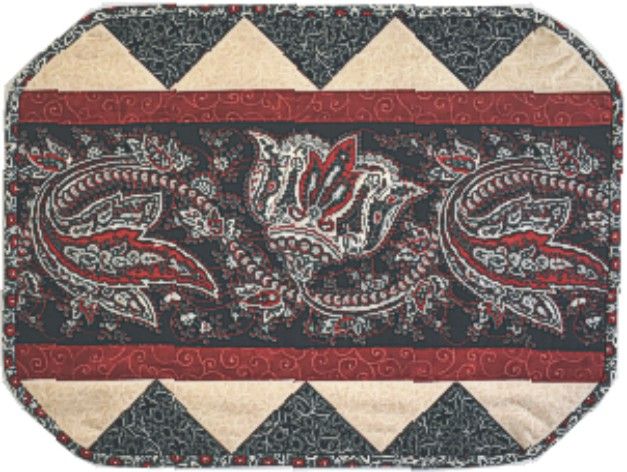 This pattern came about because I fell in love with so many gorgeous border prints and I wanted something else to do with them besides the border of a quilt.  And, if it has four repeats across the width of the fabric, you only need 1/2 yard of the border print.  The pattern includes the foundations for the Dog Tooth border across the top and bottom, detailed instructions as well as the quilting design and a little added bonus is instructions on making bias binding.  This pattern normally sells for $12.95 but the SALE PRICE is lucky $7.77.  There are enough foundations to make a set of four placemats.  There are also re-fills available but remember, there are no instructions in the re-fill packages.  There are enough foundations for six more placemats.  Regularly $5.95, on sale for $3.57.  The fabric kit has enough fabric for four placemats, including the binding plus the pattern with foundations. Regular price for the kit is $39.95; Sale Price is $23.97.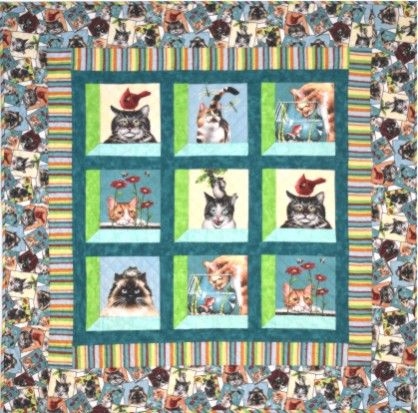 Cat In The Window was designed for these adorable cat panels.  The fabric is no longer available but it could be made up using all kinds of panels or one big scene as though looking through a big paned-window.  The Attic Windows foundations are designed so there is no set-in seam.  These are really fast to make so if you need something quick and easy, this is a good one.  This pattern regularly sells for $14.95 but is on sale for $8.97.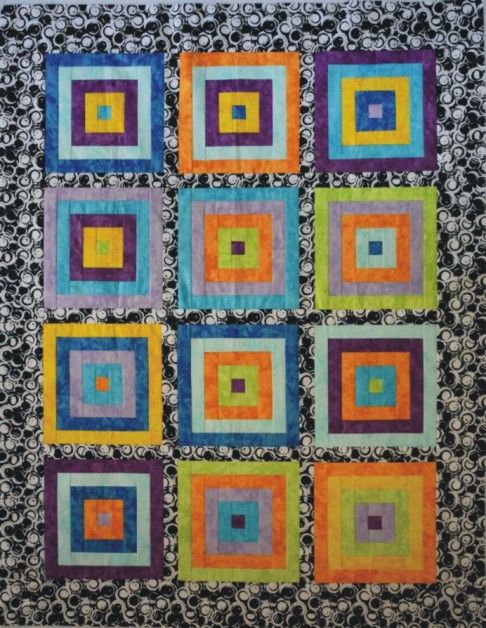 The Courthouse Steps Quilt is great for using up leftover Jelly Roll strips or any scraps.  Base your colors in the blocks on colors in your border and sashing fabrics or just make it truly scrappy.  These are 12" blocks and are quick and easy.  It makes a great toddler quilt.  This pattern is regularly priced at $15.95 but the sale price is $9.57.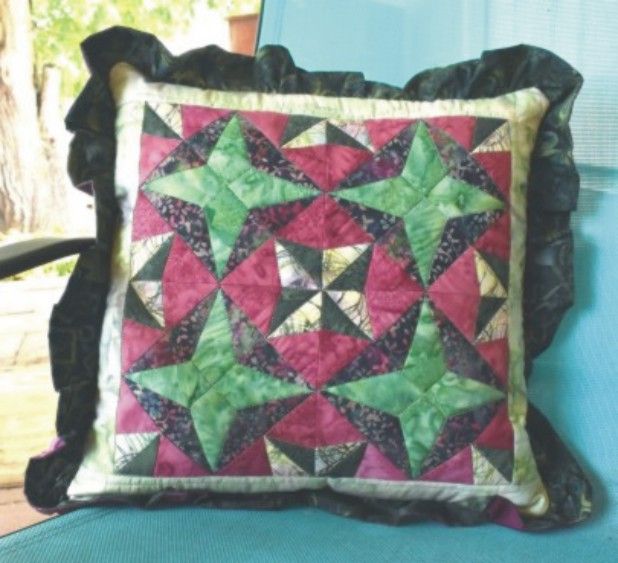 I designed some new blocks and wanted to show them off in some sort of a sample, hoping to inspire quilters to make up their own quilt design using these blocks; hence, the Fancy Star Pillow pattern.  I love the way you get a secondary effect from this block.  The pattern has detailed instructions for making the block and then making it into a pillowcase for a 16- or 18-inch pillow form.  It either has a pocket in the back or a zipper so they are easy to take off the form and throw in the washer and dryer.  There are enough foundations in the pattern to make two pillows (or 8 blocks for anything else you wish to use them in).  Regular price is $11.95; Sale Price $7.17.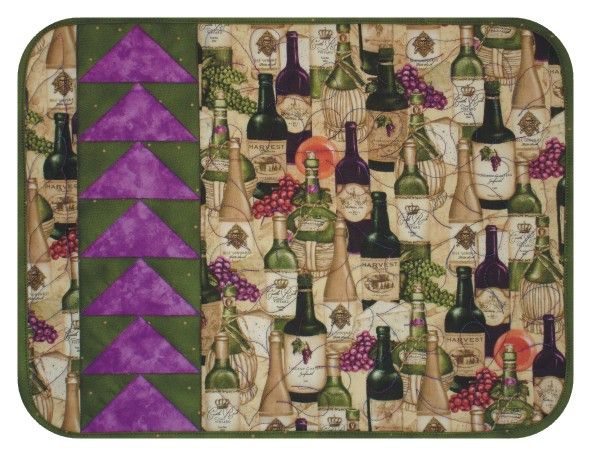 We designed these placemats so quilters could try our product for Flying Geese.  I have tried so many different methods for making Flying Geese and nothing compares to our foundations.  Remember, our foundation are printed with sewing lines and then left in the quilt.  They are so shear and lightweight, you won't know they are in there but they help to keep your quilt's shape, even when you have bias edges.  This placemat pattern is normally $12.95 but the sale price is that lucky $7.77.  There are enough foundations to make four placemats.
That is all the sale items for now.  I will be adding things daily and posting in the blog so you get notice first.  When these patterns and fabric kits are gone, they are gone.  We will not be printing any more of them.  We will continue to offer the block packages for all of our blocks but the patterns in this close out sale are being discontinued.
My son has received both of his vaccinations (military and necessary) but we are still waiting for appointments.  Our little county is apparently having trouble figuring out how to fairly distribute the vaccine.  So, we wait.  In the meantime, I am cleaning and sewing and getting lots of office work done.  I hope you are working on something that feeds your passion.  Stay safe, stay healthy and HAPPY QUILTING!